CoWorking News turns 7 today!!! Collaboration and innovation, not just real estate, is key for Coworking!!!
Veröffentlicht am 2. Juni 2016 von admin in Kategorie: CoWorking Basics, Konzeptionelles, CoWorking Kultur, CoWorking News International, Gesellschaftliches, New Work, New Life | Trackback URL | Zur Diskussion
At our 6th birthday last year, we looked ahead to 2040. This year, we like to look back and analyse what happened in the last seven years in the coworking movement, our economy and the coworking industry in particular, to get an idea of what may lie ahead.
This article is inspired by the article of Ramon Suarez (published yesterday) with the title "The Coworking Hockey Stick". At the end of his article, Ramon suggests that "there's a wealth of other information in Google Trends about coworking: go check it out!", so we did.
We wanted to check, how social and economic trends affect and match up to the impact coworking in general had in the last seven years.
So we compared social trends (represented by the social network Meetup (Red Line)) with Coworking (Blue Line) (in the category "Job and Education", Filter "Worldwide"). This is what we got (see Figure 1, below):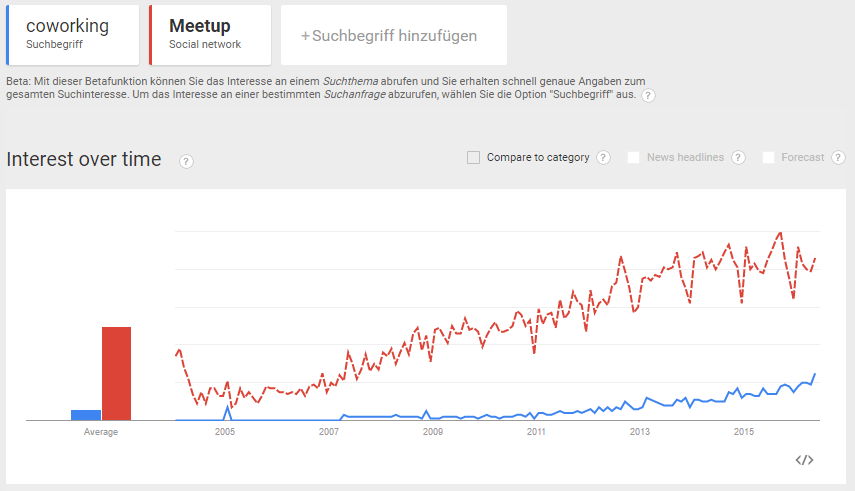 Figure (1)
From the graph above, we could deduce that coworking might follow and might be connected to a growing social trend represented here by the social network "Meetup" (while the near "par situation" in 2005 is certainly lost for the moment).
Now let us add another player that according to Wikipedia, had 54 coworking locations in across the U.S., Europe and Israel in December 2015, namely "WeWork" (Yellow Line, see Figure 2, below).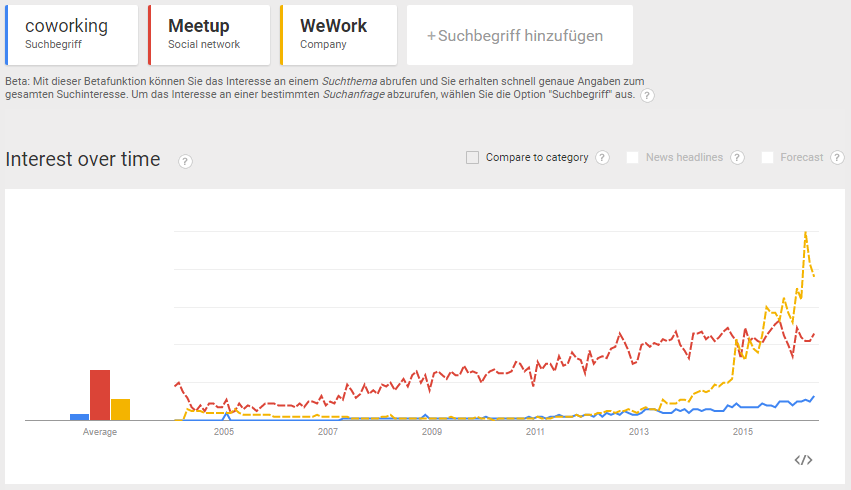 Figure (2)
Started in 2010, "WeWork" very much followed the coworking line, until the beginning of 2013 when it took a dramatic rise, crossing the social trend line in 2015, up to its current high today.
To understand, what might have happened there, we like to introduce our last player, the general economic background represented by "startup company" (Green Line, see Figure 3, below).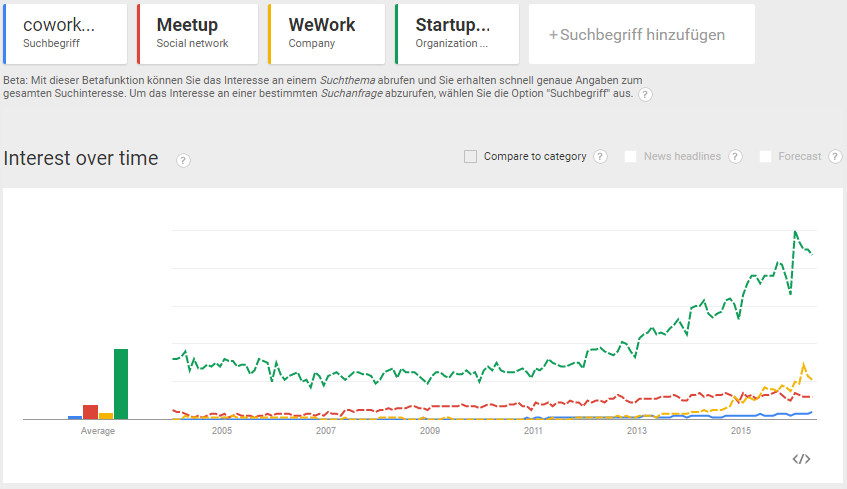 Figure (3)
According to the graph above, it might be fair to say that the growth of "WeWork" (Yellow Line) (from a job perspective) is therefore less related to the fact that it has to do with coworking (Blue Line) rather than the fact that we are talking about a company that is seen as a startup company (Green Line) or startup incubator.
To add a facet to the argument, we just change the filter to the above players from "Job & Education" to "Real Estate" (see Figure 4, below).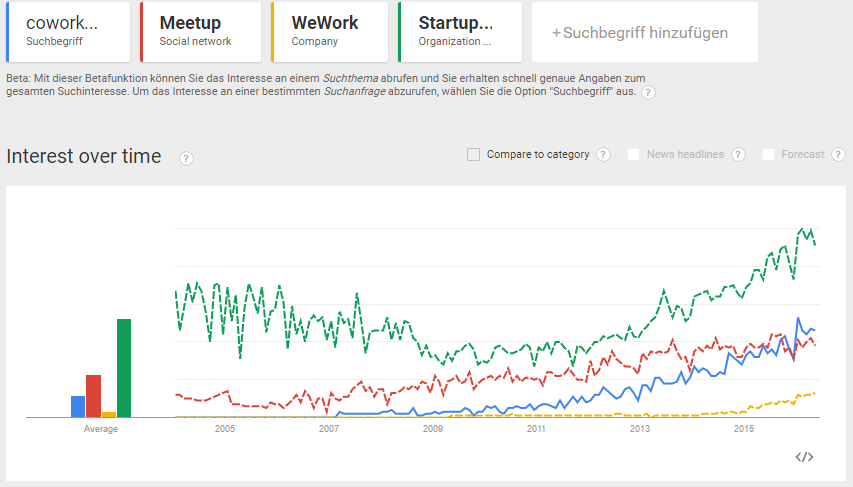 Figure (4)
Now we can see something very intersting relating to coworking in general (Blue Line) and "WeWork" (Yellow Line) in particular. From a "Real Estate perspective", coworking is extremely interesting. It follows the gradient of the startup company (Green Line) (as of 2009) and crosses the social trend (Red Line) sometime between 2015 and 2016.
Concerning "WeWork" in particular, we can see, that only with a critical mass of about 50 spaces at the end of 2015, "WeWork" is seen as a relevant player in the real estate business, with a sharply rising "Yellow Line".
To summarize:
From a social and economic perspective, coworking is certainly at a turning point. Looking at Figure 1, coworking is gaining a little ground in terms of social relevance in the last seven years, but it is in danger of loosing this relevance by turning its focus too much to "real estate activities" (Figure 4).
The people from CoWorking News and myself, very much hope that at this turning point, everyone interested and active in coworking refocuses on the values of collaboration and innovation (not just real estate) so that from a job perspective, coworking is becoming (socially relevant) for more and more people!
To support and document this refocusing, we like to invite you to send in any examples of this process of collaboration and innovation to redaktion@coworking-news.de to be published here on this blog.
We like to thank all of our readers for their interest (over 1 Million articles read) and their support during the last seven years!
Let us shape a great coworking future together!
Diesen Artikel bewerten:

Nächster Artikel: Steckbrief: AMAPOLA Coworking
Vorheriger Artikel: Steckbrief: Coworking Nürnberg