"Free Coworking News" is gaining in importance for "CoWorking News"
Veröffentlicht am 13. Januar 2015 von admin in Kategorie: CoWorking News International, Free Coworking Directory | Trackback URL | Zur Diskussion
We have been thinking in the last few weeks what we want to accomplish in 2015 with "CoWorking News" and "Free Coworking News". One thing is clear, we want to make sure that everybody is aware of both offers for starters!!! With "CoWorking News" we currently stand at more than 660 articles. With "Free Coworking News" we currently count more than 430 daily issues.
An easy way to keep up with our offers is of course the blog here, but also our Twitter Accounts (CoWorking News and Free Coworking News respectively).
As not everybody is familiar with the Paper.li format of "Free Coworking News", we like to make sure today, that every user can access all the 430 back issues by using the archive button (see red arrow on the picture below). Once you are on Free Coworking News and you press the archive button, the calendar will open (see black arrow below) and all the back issues are accessible for you.  The first edition of Free Coworking News dates back to the 5th of November 2013.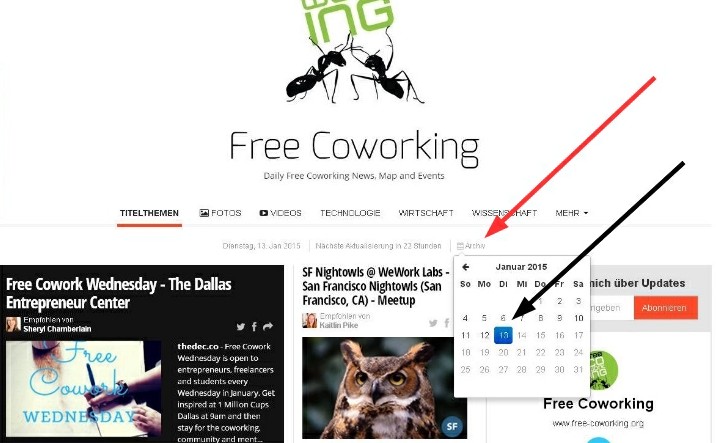 The picture above shows todays edition, 13th of January 2015. We try to make sure to keep you up to date with new Free Coworking Offers like the Free Cowork Wednesday, in the DEC, in Dallas, TX. You will also find this offer in the "Open International CoWorking Calendar" and on the "Free Coworking Map".
Diesen Artikel bewerten:

Nächster Artikel: How we can show that Free Coworking really works: The "Free Coworking Challenge"
Vorheriger Artikel: Steckbrief: AHA Factory Berlin, Coworking Space in Kreuzberg