Coworking Spaces could be places of "Ecstasy" and "Flow"
Veröffentlicht am 7. März 2014 von admin in Kategorie: CoWorking News International, Creative Environments, Free Coworking Directory, Kreativität | Trackback URL | Zur Diskussion
Following the great article by Cat Johnson for Shareable yesterday, on the global update of the Free Coworking Movement, I like to present and  expand on the subject of the "Certified/Registered Free Coworker" Programme mentioned there.
At the beginning the connection between the "Certified/Registered Coworker",  "Ecstasy" and "Flow" might not be obvious. For starters, we do not use the term "Ecstasy" very often and if we do, we often refer to a drug, also known as MDMA. The "Ecstasy" I like to refer to here is the Greek term which means "to be or stand outside oneself, a removal to elsewhere" suggested by the great Mihaly Csikszentmihalyi in the context I am developing below. But before I do that, please follow the TED-Talk he gave in 2004 on the subject of "Ecstasy" and "Flow".
Getting back to the subject of Coworking Spaces, the "Certified/Registered Coworker", "Ecstasy" and "Flow". Yes, all these things belong together. Let me draw you a picture with the help of Mihaly´s Flow model.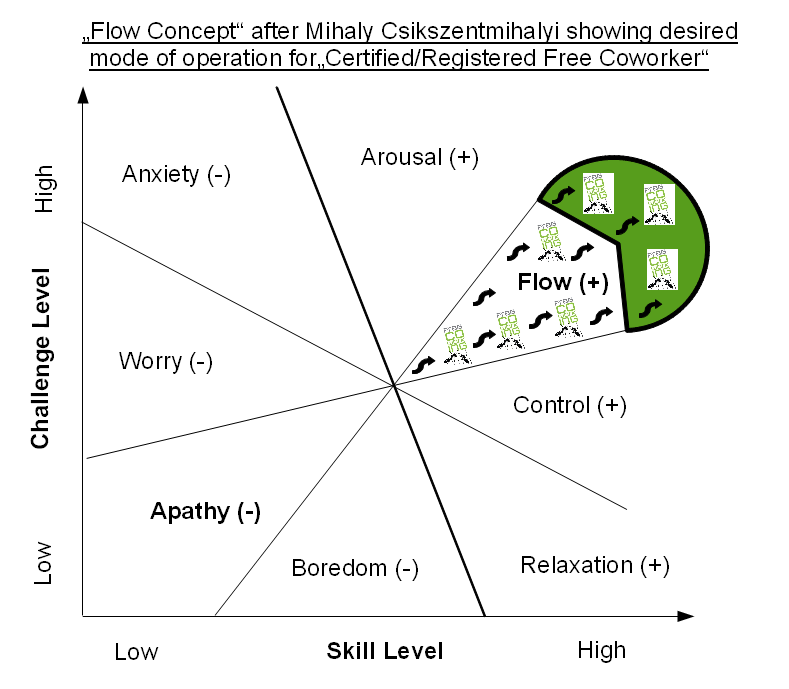 Here the desired mode of operation is of course the "Flow", where the challenge level and the skill level required to perform a certain task are both above average. The optimal state is when both are high.
According to Csikszentmihalyi there are certain personality traits which makes it easier for some people to enter in this flow state. These traits include: "Curiosity, persistence, low self-centeredness, and a high rate of performing activities for intrinsic reasons only." I think this kind of person would be very welcome in any coworking space!
To make things practical. For people to work for free in a coworking space it would be great, if they could demonstrate beforehand their willingness and ability to add something special to the space and the community they like to work in. This is one of the basic ideas behind the "Certified/Registered Free Coworker".
Mihaly puts a figure to that. According to him and other authors you have to have performed and trained in a certain area for about 10 years or something like 10.000 hours before you have the skill level to create something really new or better in this field of expertise.
I think this very high skill level while certainly desirable is not required for the "Certified/Registered Free Coworker" Programme. I believe the following 4 commitments/qualifications are more than adequate:
You are prepared to give at least 30 minutes of your time and expertise every day to the people and the community of the coworking space you visit or work in
You are prepared to actively spread free coworking, by writing about the coworking spaces you visit, your work and about free coworking events you visit or organize
You are and stay an expert or specialist in one field or area where you achieve average or above average results compared to other people in that field
You maintain an up to date website or blog to document this activity
Might this be something for you?
Check for yourself first. Is the flow/ecstasy state something that you aspire to? Are you an intrinsically motivated person looking for meaningful projects? Do you believe in personal growth and development, sharing and collaboration? Do you want to make your services, products and skills more visible for your customers? Do you want to work for free in any coworking space in the world (that supports this programme) when and where you want?
Then this is for you!
If on the other hand you lean towards procrastination and workaholism, this might not be for you. But then you can always change. Start being a free coworker now!
More information on Free Coworking, check out the Free Coworking Resources.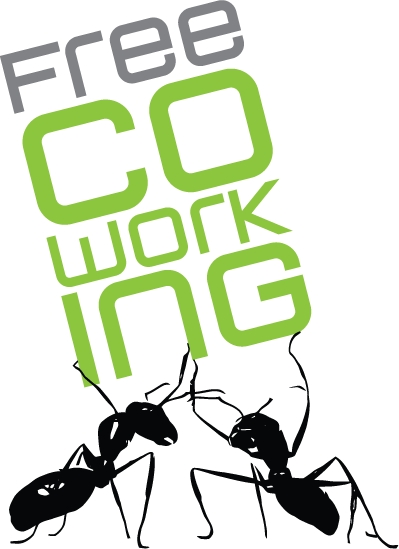 Diesen Artikel bewerten:

Nächster Artikel: Fun Products by and for Coworkers (today): Smart Phone Projector
Vorheriger Artikel: Cat Johnson interviewed leaders of the Free Coworking movement for "Shareable"